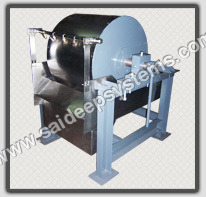 Wet Drum Magnetic Separators
Product Code : 10
Product Description
Capitalizing on our vast knowledge of the arena, we have established ourselves as an eminent manufacturer and exporter of Wet Drum Magnetic Separators. As these separators effectively remove ferrous & iron particles from powders & slurries, these are largely demanded in ceramic, chemical, glass, fertilizer and food industry. Our Wet Drum Magnetic Separators are made in compliance with international quality standards by using top quality materials. We hold the expertise to customize these separators as per the needs of the clients.
Features:
Easy installation
Zero maintenance
Advance service life
Further Details:

Wet drum magnetic separators are designed in a unique fashion where only one side of the product is magnetized. These separators can be used for removing ferrous particles from the non ferrous particles. Designed as per intentional technology, our range offers complete equipment protection to Crushers, Grinders, Pulverizers, etc. Their application is also widespread in the mining and ore dressing industry.

OPERATING PRINCIPLE:
Only one side of the drum is magnetized in drum magnetic separators. The magnet remains stationary and is enclosed by a stainless steel 304 shell that rotates freely. The ferrous particles are attracted by the magnet, which are then collected separately.

Applications:

Mostly, these separators enjoy end-use in Glass, Ceramic, Chemical, Fertilizer and the Food industry where they are used for removing iron contaminants from both granular and powdered product. We design these products in such a way that the magnetic drums exhibit different capacities (max. up to 2 tons per hour). Dimensions of 300mm-600mm are available. The diameter and length can reach up to 1500 mm and can effectively manage 10 tonnes.

Construction:

The magnetic drum separator is made up of multiple oriented, isotopic permanent magnets. These magnets are strategically assembled, that lends alternate polarity across its entire circumference. The machine can even function without rectifier and electricity, which makes it highly cost-effective and an excellent alternative during power failures.

Proper Selection Of Magnetic Drum:
Magnetic drums are constructed keeping the following parameters in mind:
Size

Type of separation

Type, size and the overall quality of ferrous combination

Quality of the material that would be handled

Type of separation

Purification

Concentration

Tramp iron removal
Benefits
It is an ideal product for removing the ferrous particles from the non ferrous particles (both powder and crystals). Customers across the Plastic, Food, Fertilizer, Chemical, Plastic, Pharmaceutical, and allied industries use our separators to safeguard the quality of their equipment (Crushers, Grinders, Pulverizers, etc). Even in the mining and ore dressing industry, these separators are found to be highly outcome-based and used for eliminating various risks associated with fire hazards. Besides, installing our equipment can also reduce time, labor, money, and more, through prevention of breakdown and bringing improvement in the quality.