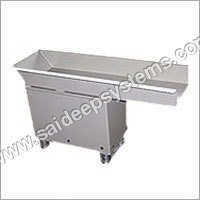 Vibratory Feeder
Product Code : 22
Product Description
We are able to attain total satisfaction of the customers by manufacturing and exporting an innovative range of Vibratory Feeder. These feeders are used for grading powders and wet materials in different industries such as plastics, rubber, food, pharmaceutical, chemical, fertilizer and glass. Precisely designed at our state of the art machining facility, our Vibratory Feeder is made using quality mild steel procured from authentic vendors of the market. Our clients can avail these feeders from us at a reasonable price.
Features:
Energy efficient
Modular design
Simple to operate
Further Details:
Operating Principle:
Precisely designed by our team of experts, the electromagnetic vibratory feeder has an MS tray and a main body made in an enclosed design that carries the electromagnet. The tray connected to the pole piece/armature of the magnet vibrates once the magnet is energized, which in turn sets the material in motion. The vibration can be increased/decreased to manipulate the flow of the material.
Our range of Vibratory Linear Feeder finds application in the continuous process industry where it is used to automatically control the flow of material.
Application:
From food, pharmaceutical, chemical, plastics to rubber, these electromagnetic vibratory feeders are a handy equipment in major industries. Both floor mounted and suspension mounted designs can be constructed as per specific customer requirements.
Capacity:
We supply Electromagnetic vibratory feeders in various models and capacities (few grams to 100 tons/hour capacity, or even more). Even flow of materials with a slightly high moisture content can be controlled using these feeders. For using the feeder only for screening purposes, a screen can be placed over the tray. Any kind of free flowing particles can be screened when the feeder is used in this way, as the use of moving parts, eccentrics, are completely eliminated in the equipment. A 230 Volts A.C. single phase system can be used for operating a simple feeder, whereas the ones that are larger than 100 T.P.H. can be operated via a 440 Volts A.C. single phase.
Technical Details:

Vibratory
Feeder Model

Tray Size
in mm

Capacity / Hour.( for
Material with Density
1500 Kgs / Cubic Mtr.

Power
Consumption

SDF- 1

150 x 500

5 Tons

100 Watts.

SDF- 2

250 x 600

10 Tons

200 Watts.

SDF- 3

300 x 900

25 Tons

350 Watts.

SDF- 4

500 x 1000

50 Tons

600 Watts.

SDF- 5

600 x 1200

75 Tons

900 Watts.

SDF- 6

750 x 1500

100 Tons

1200 Watts.