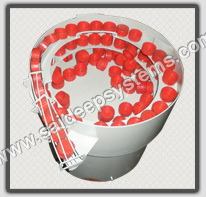 Vibrating Bowl Feeder
Product Code : 25
Product Description
Being a prestigious business organization, we are recognized for manufacturing and exporting an appreciable range of Vibrating Bowl Feeder. These feeders are largely used for packaging and grading application in plastic, detergent, paper, coal, sugar and fertilizer industries. We employ ultra modern techniques and quality approved MS & SS to manufacture Vibrating Bowl Feeder, in accordance with industry set norms and standards. We follow the parameters of the national and international quality standards to offer our clients with extreme satisfaction in terms of quality.
Features:
Sturdy design
Simple operation
Advance service life
Further Details:
Vibration has intrigued mankind since ages. However, accurately analyzing and utilizing the advantages of vibration was not possible during early times. Only with the advent of new technologies, the concept of vibration was better understood. By harnessing and exploiting novel technologies, man mastered the art of generating newer patterns of vibrations and even figured how to control them. This concept can be aptly highlighted by the designs of our bowl feeders, where the vibrations are generated in a peculiar spiral fashion. Due to the movement of the vibrations in this unique spiral fashion, the components placed inside the bowl which is installed to the vibrating unit moves round & round vertically. The bowl is engineered in a hi-tech design and given a unique geometry so that it can effectively handle the particular component.
The components move up the track in a circular motion and once oriented it comes out of the equipment in the desired form. This particular orienting method can be applied on assembly lines and smartly used during packing operations, as it eliminates the use of manual labor for loading/feeding of components.
Range:
We manufacture small bowls having a minimum of 200mm. diameter. As per client requirement, we can also provide larger bowls having 1000mm. diameter. Our bowls are fabricated using only high grade M.S. or S.S.
Operating Principle:
Our bowl feeders operate on D.C. pulsating supply. A rectifier or thyristor circuit is used to covert the 230V.A.C. single phase and provide the necessary supply to the feeders. Individual units are supplied with a control panel, which helps in providing D.C. power to the vibrator and monitor/alter the feed rate. Since the supply frequency is maintained at 50 Hz, the bowl feeders operate at around 3000 vibrations/min at a maximum of 1.5 mm amplitude.