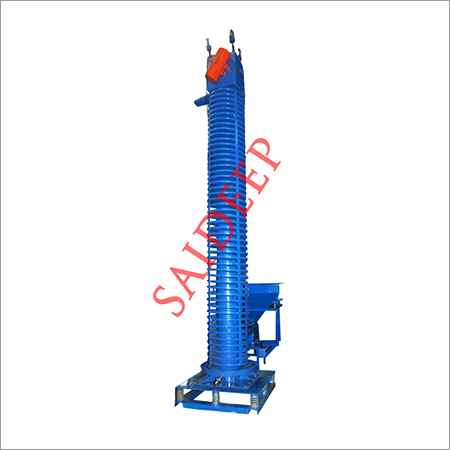 Motorized Spiral Conveyor
Product Code : 14
Product Description
Our clients have recognized us as the most trusted manufacturer and supplier of Motorized Spiral Conveyor. These conveyors are made from mild steel at our state of the art machining facility, as per the standards laid down by regulatory bodies. Our Motorized Spiral Conveyor is installed in, pharmaceutical, chemical, fertilizer, glass, plastics, rubber, ceramic and food industries for vertical elevating of materials. We can also customize these conveyors in various lengths and weighting capacities to choose from.
Features:
Smooth movement
Durable design
Energy efficient
Further Details:
The motorised spiral conveyor is constructed using multiple spiral trays of mild steel. The conveyor has a main body that is robust and is installed with a vibrating motor, which is then connected to the upper spiral tray body. Once the motor is on, it vibrates, and this vibration elevates the material in a spiral upward motion, i.e., vertically. To prevent dust from accumulating in the motor, its body housing is made in a totally enclosed design. The motorised spiral conveyor screen has a standard frequency of around 3000 vibrations/minute with a maximum amplitude that is calculated at 1.5 mm-2 mm as per the screen size.
Application :
Motorised spiral conveyors are used in end number of applications in the continuous process industry, especially in applications that require vertical elevating of material. From chemical, fertilizer, plastics, ceramic, food, rubber, pharmaceutical, and glass industries, our range meets needs of several industries when it comes to vertical material handling & lifting.
Capacity :
We offer Motorised spiral conveyors in varying capacities as per specific lifting needs and requirements.