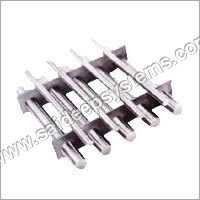 Magnetic Grills
Product Code : 07
Product Description
Banking on our 4 decades of rich industrial experiences, we have been engaged in offering a superior range of Magnetic Grills. These grills are used in foundries, glass, ceramic and plastic industries for removing very fine weakly magnetic impurities from free flowing powder or granules. Precisely designed at our state of the art machining facility, our Magnetic Grills are made using quality materials procured from authentic vendors of the market. We can also customize these grills as per the exact needs of the clients.
Features:
Simple installation & operation
Zero tolerance filtering
Durable design
Further Details:

We fabricate a wide variety of Super Power Rare Earth Magnetic Grids that can be reliably used for filtering weak magnetic impurities from both free flowing powder & granular materials. Thus, different industries like Food, Chemicals, Minerals, Foundries, Plastic, Glass, etc., have heavy demand for these products. Usually, these Grids are assembled by our trained experts from 1Dia Rods in various materials like SS304, SS 316, etc., which gives them excellent super power magnetic force on the surface. Our range of Grids is also fabricated in various shapes like Rectangular, Round and Draw Out types to suit diverse application needs of our customers. These Super Power Rare Earth Magnetic Grids can also be availed in single or multiple rows, etc.
Depending on the specific hopper design, the rods can be shaped in a rectangular or round form. However the basic functional concept remains the same - to attract the finest of impurities in the free flowing product.
Drawer Magnet:
Magnetic separation is further enhanced with the Drawer Design where the grid can also be cleaned while the system is in the operation mode. Mostly, multiple grids are used that can be easily removed, which makes the cleaning process very fast and efficient.