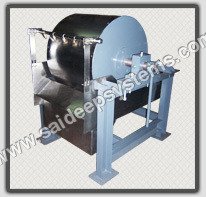 Drum Type Magnetic Separator
Product Code : 02
Product Description
With our rich experience and technical expertise, we are certain to manufacture and export an innovative range of Drum Type Magnetic Separator. These separators are installed in plastic, food, fertilizer, pharmaceutical, chemical and glass industries for separating ferrous particles from non ferrous powder and crystals. Our Drum Type Magnetic Separator is made and designed from top notch materials at our state of the art machining facility, under the able guidance of veteran engineers. Our clients can avail these separators from us at a nominal price.
Key Attributes:
Space saving design
Energy efficient
Silent operation
Further Details:
Saideep presents a range of Drum Type Magnetic Separators that features automatic application and can be used for separating Magnetic Particles from Fine Powder. Our Drum Type Magnetic Separators can be availed in two designs. Both these two models are so developed that they can be used in free-flowing processing system for efficiently separating and extracting ferrous materials from dry bulk products.

Usually, the Drum Type Magnetic Separator has a stationary permanent magnet, which can either be a standard Ferrite Magnet or a High Power Rare Earth Magnet. This magnet is enclosed in a non-magnetic drum made of good quality stainless steel. The liquid first flows onto the top of the drum and then across its surface. This attracts the ferrous matter in the flow towards the drum's surface where it sticks because of the powerful magnet inside the drum.

The ferrous matter clings to the drum surface whereas the non-ferrous particles falls freely from the side of the drum. The part of the drum where the ferrous material clings rotates in an opposite direction to the product flow. Thus, the magnetic fields is reduced, which leads the ferrous particulates to fall from the drum onto the collection container attached in the drum body. The end product obtained in this way is completely pure and is ready for further processing.

Rare Earth, Neodymium Magnets belonging to the Rare Earth family of magnets are almost 5 times more powerful than normal Ceramic Magnets and hence can be used for filtering even micron sized particles.

We can provide our range of Drum Separators as standalone drums or as a complete assembly along with the housing and drive. Our range can also be purchased in a wide variety of sizes and strengths to suit diverse applications.
Features:
Drum magnets are strong magnet assembly that has high surface holding power
The magnetic pole area is greater in these magnets as compared to the normal ones
They are very space-efficient and can be operated easily
Being flexible in nature, these magnets can be used for multiple purposes
Drum magnets come with sturdy steel support bearings
Specifications:
Materials like stainless steel, flanges etc., are used for designing housing drum magnets
The magnetic materials that are usually employed for making drum magnets are ceramic magnets and rare earth magnets
These magnets are made available in various sizes & face width
The drum magnets are not only easily to operate but they also feature self cleaning designs
A. Magnetic Drum that has Ferrite Magnets have medium power and can be used for normal duty
B. Magnetic Drum that uses Super Power Rare Earth Magnets are comparatively stronger and can be used for removing weak magnetic particles and for attaining maximum purification in the end product.
Operating Principle:
In the case of permanent magnetic drum, only half of its side has magnetic properties. An empty shell made using stainless steel 304 surrounds the magnet that remains stationary. The shell on the other hand rotates freely. Ferrous particles get attracted towards the magnetized area and are then collected separately.
Application:
The magnetic drum separator can be used for removing iron particles from granules and powders. Purification process with the help of such separators are mainly utilized in Fertilizer, Chemical, Glass, Ceramic, Foundry, Plastic and the Food Industry.
We can cater to urgent requirements for Magnetic Drums up to 600mm diameter & 1500mm length (Ferrite & Super power). You can get the most appropriate Drum specifically tailored as per details of your requirement.

Advantages:
Provide protection and increases the service life of crushers, grinders, pulverizes,etc.
Can be safely utilized in the mining and ore dressing industry
Can be used for eliminating fire hazards in plants
Is very cost-effective and reduces time & labor by decreasing the beak-down time and improving the overall quality