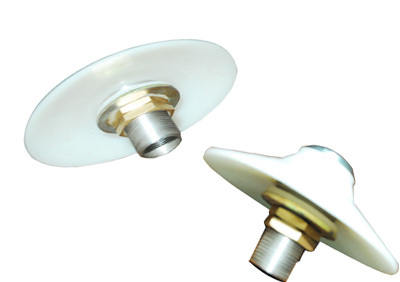 Bin Aerator
Product Code : 69
Product Description
Vibrating Bin Aerator
Saideep's Vibrating Bin Aerators help ensure that powders and solid materials don't pack in hoppers, along bin walls, or in the cone of the bin.
Saideep's Bin Aerator combats flow problems using both aeration and vibration along the hopper wall to prevent compaction and troublesome bridging and rat holing in bins, tanks, and silos. Preventing buildup and allowing material to flow freely from the bin keeps operations running smoothly and reduces the need for time consuming bin cleaning. By adding air back into powders, Saideep's Bin Aerators (Air Pads) can help promote material flow by preventing compaction and encouraging material to behave fluidly for easier handling.
Unique umbrella shape provides dual advantage of cleaning side walls of silo and fluidizes the material simultaneously, guaranteeing uninterrupted flow of material through silo cone.
Salient Features:
Made out of specially developed heat resistant, high tenacity silicon rubber with stainless steel structure for inert gas purging.
Suitable to withstand temp. from -70 to 170 degree Celsius.
Easy Interchangeability. Ex-Stock delivery.
Benefits
Lower operating pressure
Reduced air consumption
Unique high efficiency design
Comprehensive product range
Retrofit design
Interchangeable with other aerator makes
Quick installation
Food-grade